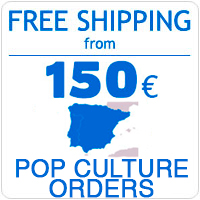 POP CULTURE ORDERS - SPAIN (PENINSULA) AND PORTUGAL 
TOP 150 € ORDERS: FREE SHIPPING (1 item)
150 € ORDERS LOWER: 6.99 €
NATIONAL SHIPPING TO SPAIN AND PORTUGAL
EXCEPT Balearic Islands, Ceuta and Melilla
BULK can not exceed 200 cm (length + width + height)
BULK CAN NOT REGRET OVER 30 KG
ASSESSING THE ORDER IS MADE ON THE TAX BASE
DELIVERY 24 / 48H AFTER YOU PAY *
EXCLUSIVE OFFER FOR ORDERS FOR THE WEB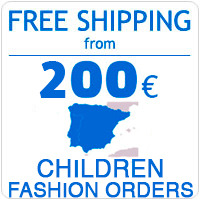 PEDIDOS MODA INFANTIL - ESPAÑA (PENÍNSULA) Y PORTUGAL 
TO SPAIN TOP 200 € ORDERS: FREE SHIPPING (1 item)
TO PORTUGAL TOP 250 € ORDERS: FREE SHIPPING (1 item)
LOWER ORDERS: 6.99 €
NATIONAL SHIPPING TO SPAIN AND PORTUGAL
EXCEPT Balearic Islands, Ceuta and Melilla
BULK can not exceed 200 cm (length + width + height)
BULK CAN NOT REGRET OVER 30 KG
ASSESSING THE ORDER IS MADE ON THE TAX BASE
DELIVERY 24 / 48H AFTER YOU PAY *
EXCLUSIVE OFFER FOR ORDERS FOR THE WEB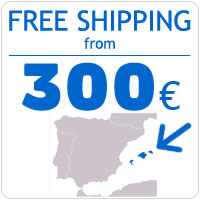 Balearic Islands
OVER 300 € ORDERS: FREE (1 item)
LOWER ORDERS 300 €: 19.99 €
EACH PACKAGE MAY NOT EXCEED 200cm (length + width + height)
BULK CAN NOT WEIGH MORE THAN 30KG
ASSESSING THE ORDER IS MADE ON THE TAX BASE
DELIVERY 2/5 DAYS AFTER YOU PAY *
EXCLUSIVE OFFER FOR ORDERS the Web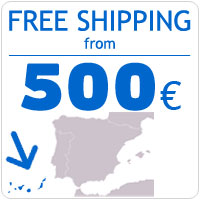 CANARY ISLANDS
OVER 500 € ORDERS: FREE (1 item)
LOWER ORDERS 500 €: 30 € DUA IN CONCEPT AND FREIGHT
ASSESSING THE ORDER IS MADE ON THE TAX BASE
BULK MAY NOT EXCEED 200cm (length + width + height)
BULK CAN NOT WEIGH MORE THAN 30KG
DELIVERY 5/9 DAYS AFTER YOU PAY *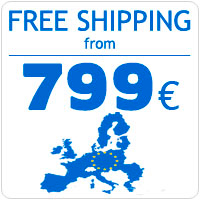 EUROPEAN UNION
TOP 799 € ORDERS: 1 BULK FREE, REST 30/BULK (INCLUDED UK) (EXCEPT OTHER ISLANDS)
LOWER ORDERS 799 €: 30€/BULK (INCLUDED UK) (EXCEPT OTHER ISLANDS)
ASSESSING THE ORDER IS MADE ON THE TAX BASE
BULK MAY NOT EXCEED 200cm (length + width + height)
BULK CAN NOT weigh more than 30KG
DELIVERY 7/9 DAYS AFTER YOU PAY *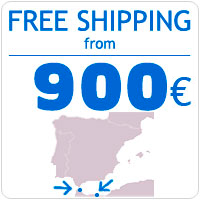 CEUTA AND MELILLA
OVER 900 € ORDERS: FREE (1 item)
900 € orders below 60 € IN CONCEPT DUA AND FREIGHT
ASSESSING THE ORDER IS MADE ON THE TAX BASE
BULK MAY NOT EXCEED 200cm (length + width + height)
BULK CAN NOT WEIGH MORE THAN 30KG
DELIVERY 5/7 DAYS AFTER YOU PAY *


In WWW.TOPBABY.EU we have prepared the most affordable rates for your business to be competitive and do not be any extra costs for transportation, with rare exceptions into high volume or weight shipments are covered with our offer plenty of free postage, even so in case you had any transportation expense we will directly contact you to study you a personalized and fully competitive offer that suits your needs.
 
* If the request corresponds to a single warehouse delivery will take place in 24/48 hours in case of carrying goods from two different stores Delivery will take 24 hours.
  -warehouse Madrid Centro (Children's Fashion Merchandising and Condor)
  -warehouse Madrid Fuenlabrada (Character merchandise, Child care and Condor)
** To get free postage and products should not be counted in reserve and who are exhausted
*** Delivery 24 / 48h comprises only working hours (9:00 to 17:00) and working days (Monday to Friday)
**** The orders are prepared in strict order of arrival should not be any article stocks customer will be offered the opportunity to switch to another product or crediting your liking.